Lotsaspots Angels Reply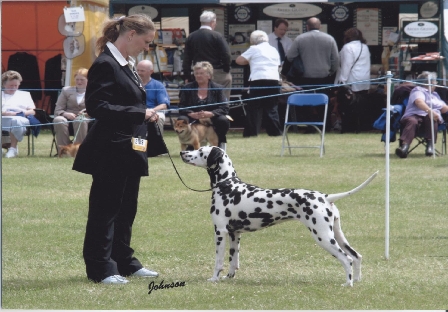 Photo taken July 2004 at Paignton Ch Dog Show by Carol Ann Johnson

Missi is now retired and enjoys her lazy days at home especially when Evo has gone out to a show
Here are some of Missi's achievements with some photos and critiques

Missi's Achievements



7 x Best Puppy and numerous Group Placings.
Best Puppy Bitch at the NOEDC Open Show and then onto Reserve Best Puppy in show.
8 x Best Of Breed / 6 x Reserve Best Of Breed with many Group Placings
Missi has also been shown at Exemption Shows (Now called Companion Shows)
Where she has won numerous Best Puppy In Show and Reserve Best In Shows
At the club shows she always comes away with a good place and even a cup or 2 which is very nice.

Missi has also qualified for Crufts every year in her show career which we are very happy about.



Missi NOEDC Ch Show July 2007



29th July 2007 - North Of England Dalmatian Club Champ Show
Judge: Mrs Shelagh Stevenson
Class: Special Beginners
Result: 2nd Place Critique: 2. Ayers' LOTSASPOTS ANGELS REPLY B/w slightly taller than 1. Excellent dark pigment. Well marked and shown in good coat, good muscle tone. Good forequarters and depth of brisket. Neat feet. Powerful rear quarters well angulated. Drove out well on the move.


Missi LKA Dec 2004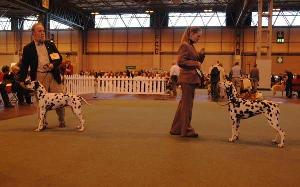 LKA Champ Show Dec 2004 Theresa Gardinor
2nd: AYERS Lotsaspots Angels Reply, B/s good type who moved very well and handled beautifully

Missi BDC Ch Show Aug 2004
Missi BDC Club Show Nov 2004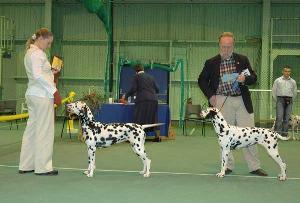 BDC Open Show Nov 2004 Mrs Viv Duncanson
Post Graduate Bitch (15 entries, 5 absent) 1st Ayres LOTSASPOTS ANGELS REPLY.
Larger type of bitch with a superb outline. Good bone and substance, but still feminine and balanced.
A really happy and exuberant show girl who works well with her handler. Spotting is on the heavy side, but is attractive. Moved soundly.
Missi BDC Club CH Show Aug 2004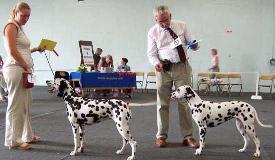 BDC Champ Show 2004 Shelagh Stevenson
Postgraduate Bitch (18, 3) 1. Ayers' Lotsaspots Angels Reply B/w with excellent pigmentation both in spotting and eye colour. Larger type of bitch but maintaining femininity. Attractive expression and nicely carried ears. Good reach of neck and adequate forechest. Good shoulder placement, adequate length of loin. Well muscled rear quarters and correct tail set. Moved with a good positive stride. Happy disposition and showed well.
Missi Paignton July 2004